The Singer Comes Out & Says The NY Rapper Is Abusive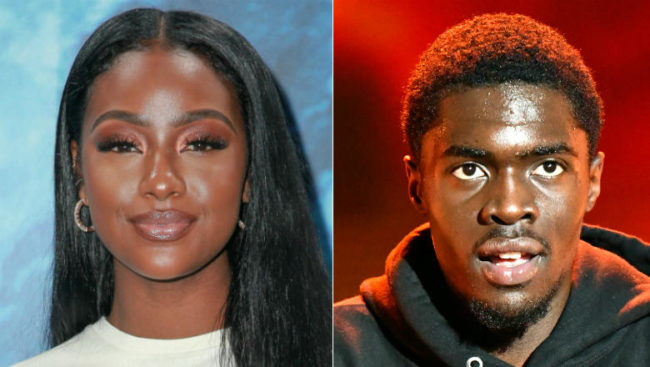 Singer Justine Skye took to social media recently to announce she had experienced abuse by rapper Sheck Wes.
The singer has remained quiet and brought up the issues of abuse in the past, but never used any name. She talks about Sheck Wes stalking her along with her crew and then an attack taking place.
Take a look at the tweets she put out about the situation.
Taking a walk with my friends and my man and Sheck Wes (my abuser) and his friends decide to STALK US and attack my friends.. two cars full of niggas while he sat in the car like a bitch. You're pathetic sheck and you beat women. You hit your girl before me and you'll do it again

— Justine Skye (@JustineSkye) February 12, 2019
You're pathetic… and all the people defending you, ya whole bitch ass label.. everyone. You spreading lies about me. Moral of the story is, if you never put your hands on me.. you wouldn't be in this situation and you just keep making it worse.

— Justine Skye (@JustineSkye) February 12, 2019
Sheck Wes was quick to deny these allegations on social media and defended himself. He says he has never put his hands on any women and attack anyone from her crew.
I've chosen to remain silent until now out of respect for actual victims of abuse. But I cannot stand by while lies are repeatedly told about me.

I never hit or beat any women and I did not beat up or jump anybody.

— Sheck Jesus (@sheckwes) February 12, 2019
Skye responded with security footage of the rapper jumping a fence outside of her house. She also posted screenshots of a friend being scared for her safety.
All your friends know what happened pic.twitter.com/ojG2ODugmY

— Justine Skye (@JustineSkye) February 12, 2019
Are you going to lie now and say this is not you too? pic.twitter.com/yGyEmIr3WN

— Justine Skye (@JustineSkye) February 12, 2019
It didn't end there as Sheck responded to the video saying he was trying to get his stuff back from her and restated again he has never hit any women ever.
Refused? THIS specific incident was BECAUSE I was trying to give you your things… you decided to react violently and irrational because you "are a grown ass man and I'm not going to disrespect you" because I put them in garbage bags for you to pick up. https://t.co/c1Z5vZitG3

— Justine Skye (@JustineSkye) February 12, 2019
We will keep an eye on this story as details surface.
946 Followers, 1,973 Following, 45 Posts – See Instagram photos and videos from King ?? (@scoobyjonesx)